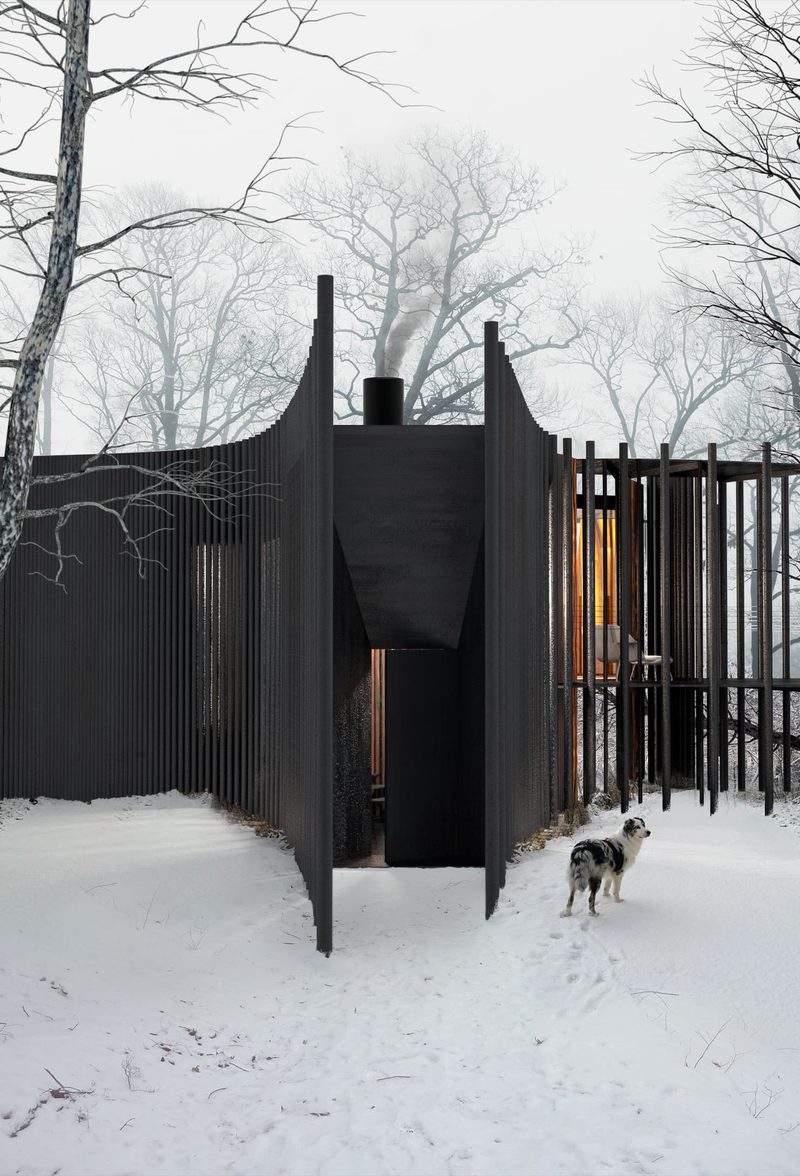 Indoor and outdoor living spaces are suspended in between constellation of vertical wooden poles giving the feeling of living in-between trees.

The boundary of the lodge is ambivalent as the poles solidify and dissolve creating a solid facade, windows and a terrace.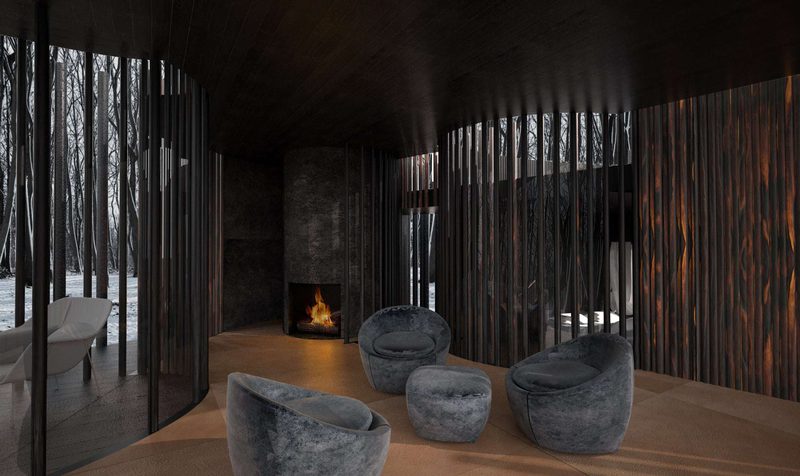 The lodge provides both a connection to the outdoors through amorphous arrangement of wooden poles and a feeling of security and calmness.

The posts are made of charred timber, a chemical free technique to preserve wood using fire and oil.
The central element is a kitchen stove that works as a kachelofen, distributing radiant heat in the floor void into the bedroom and sitting room.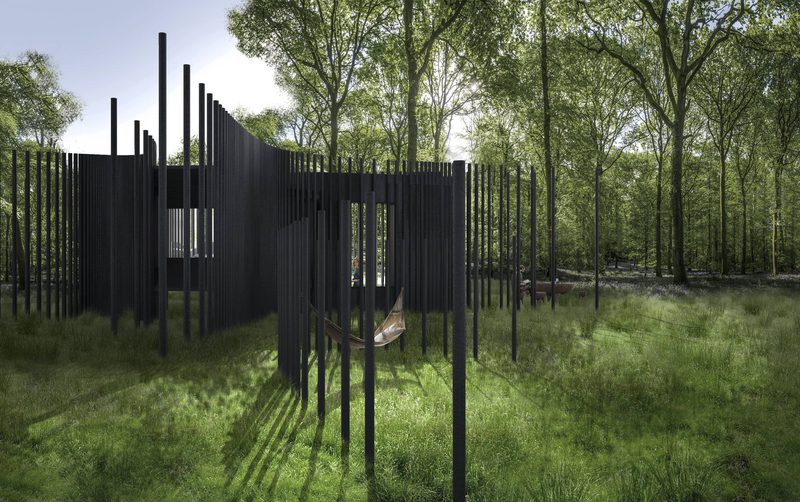 The outdoor areas of the lodge can be constantly rearranged depending on the seasons or the Client's liking. The wooden posts provide support for shading structures, seating, hammocks or lighting.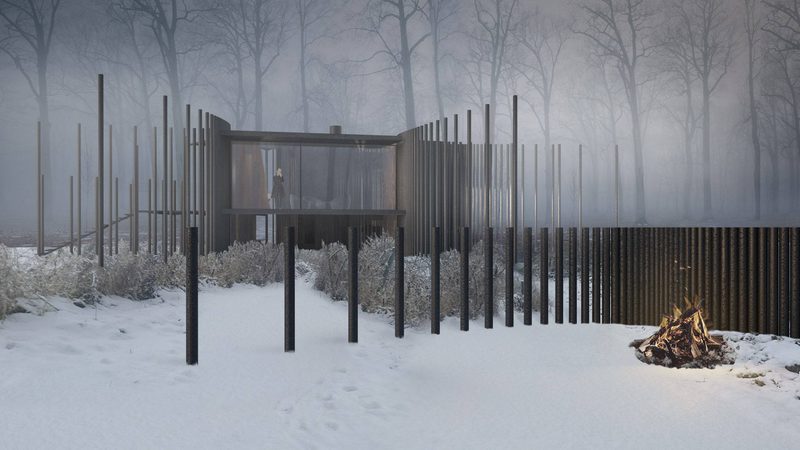 Windows provide panoramic views and are equipped with overhangs to allow light in the winter and prevent sun overheat in the summer.
Design

Bilska de Beaupuy

Location

Ardèche, France

Client

Private

Project year

2017

Project status

Concept Design

Visualisations

Bilska de Beaupuy
The Indoor Outdoor Bathroom is a refurbishment of an en-suite bathroom in central London.
The Client wished to feel like she was 'outside', while being indoors in her bathroom. We explored the meaning of 'outside' and associated it with 'nature'.

By studying characteristics of nature and translating them into language of design we aimed to create a space that becomes a metaphor of nature.
The Indoor Outdoor Bathroom is about transformation and interaction. The plants change volume through time and engage the Client as she witnesses their growth and evolution.
The reflective, smooth texture and versatile patterns of the Tadelakt walls and ceiling change depending on the lighting conditions and time of the day.

The bathroom provides ambience of tranquility and is a place of rest and well-being.
The central element of the bathroom is a 3-dimensional fluid trellis made of gold-plated jewellery chains that add femininity to the space and support air-filtering climbing plants.
Throughout the design process we focused on applying principles of Cradle to Cradle (C2C), reusing elements from the previous fit out and integrating non-toxic, healthy building materials such as a lime-based waterproof plaster, recycled crystallised glass, low VOC paints and C2C certified tiles.
Design

Bilska de Beaupuy

Location

London, United Kingdom

Client

Private

Project Year

2017

Project status

Completed

Awards

Silver A'Design Award 2018 winner
2017 SBID International Design Awards finalist
Horticultural Consultant

MRG Studio

Plants Selection and Arrangement

Boma Garden Centre

Main Contractor

MK refurbishment London

Tadelakt Contractor

Tadelakt London

Bespoke Shower Wall

Low Impact

Shower Wall Installation

WOW Glass

Bespoke Metalwork

Lasermaster

Diagrams

Bilska de Beaupuy

Photographs

Naaro

Special Thanks

Paul-Louis Flandrin and Toby Weller from Big Bead Little Bead for advice and sourcing of jewellery chains

Philippe de Beaupuy

Michal Wojtkiewicz