The hut is a shelter, a large roof over a central circular core.

The design is inspired by traditional mountain Carpathian architecture and its role is to protect from the elements.

Materials are wood, leather, stone and rammed earth.
The hut contains three spaces, all designed to repose and reconnect: a high ceiling fire room, a warm and intimate communal sleeping space, and within the hut's central circular core, a cave-like bathroom entirely dedicated to bathing and steam.
The large protective roof creates an atmosphere of retreat.

A place where you meet around the fire to share food and conversations or contemplate stars and moon.
The hut opens discreetly to the outdoors with two narrow diamond shape windows.

The less you see from the outside, the more humbled you are by what is outside.
Design

Bilska de Beaupuy

Location

Carpathians

Client

Private

Project Year

2018-2019

Project Status

Concept Design

Visuals

Bilska de Beaupuy
This bathroom is a stage for creating patterns using light that penetrates moving water.

The continuous white walls and ceiling become a canvas and the water sources, a painting palette.

The interior colours and patterns are created through reflections and mixing different luminous colour projections.
Water Lab Bathroom has been designed as a visual and interactive laboratory to explore and experiment with water: running, splashing or dripping.

Water Lab Bathroom recycles and reuses maximum number of elements from the existing bathroom that would normally be disposed of.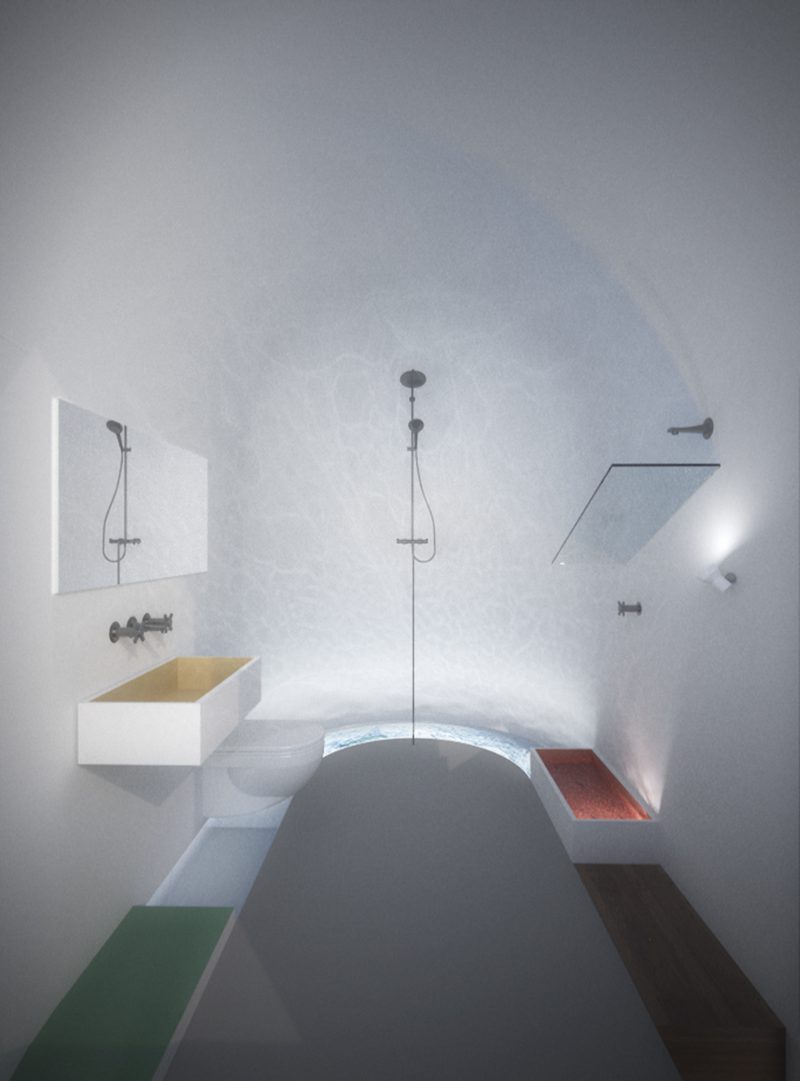 Design

Bilska de Beaupuy

Location

London, UK

Client

Private

Project status

Concept Design

Visuals

Bilska de Beaupuy