Water Lab Bathroom has been designed as a visual and interactive laboratory to explore and experiment with water: running, splashing or dripping.

Water Lab Bathroom recycles and reuses maximum number of elements from the existing bathroom that would normally be disposed of.

By rearranging the old items we give them a new value and a feeling of novelty to the Client.
This bathroom is a stage for creating patterns using light that penetrates moving water.

The continuous white walls and ceiling become a canvas and the water sources, a painting palette.

The interior colours and patterns are created through reflections and mixing different luminous colour projections.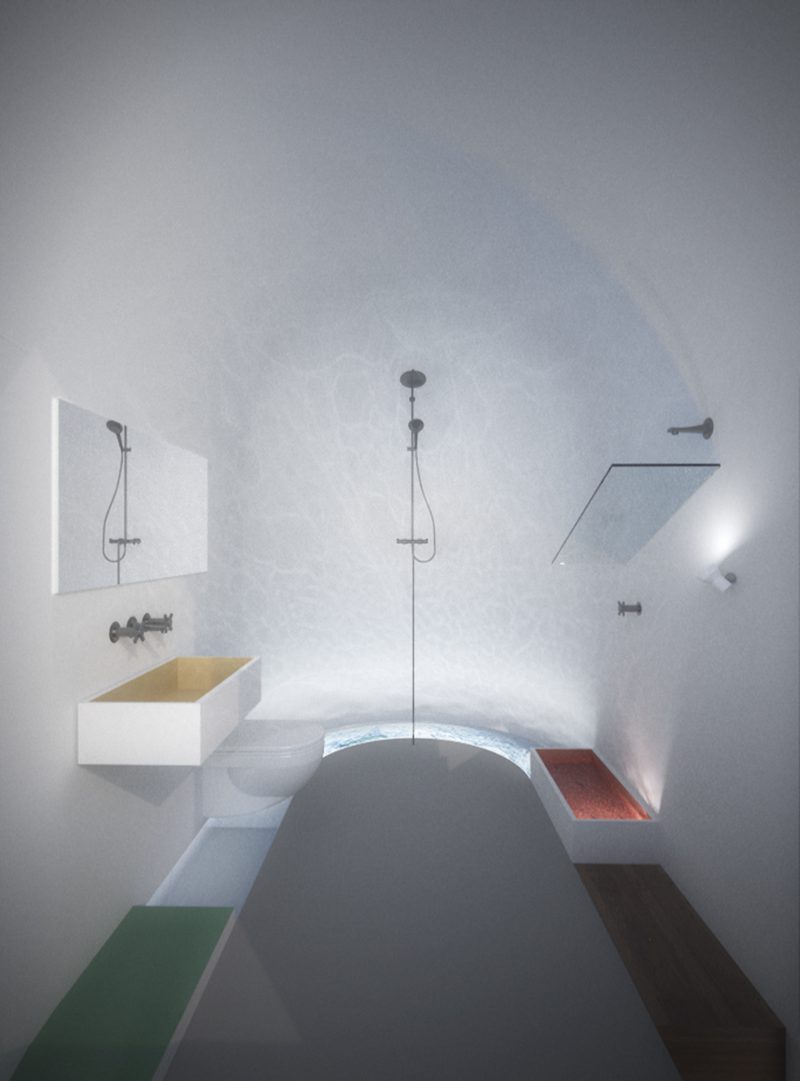 Design

Bilska de Beaupuy

Location

London, UK

Client

Private

Project status

Concept Design

Visuals

Bilska de Beaupuy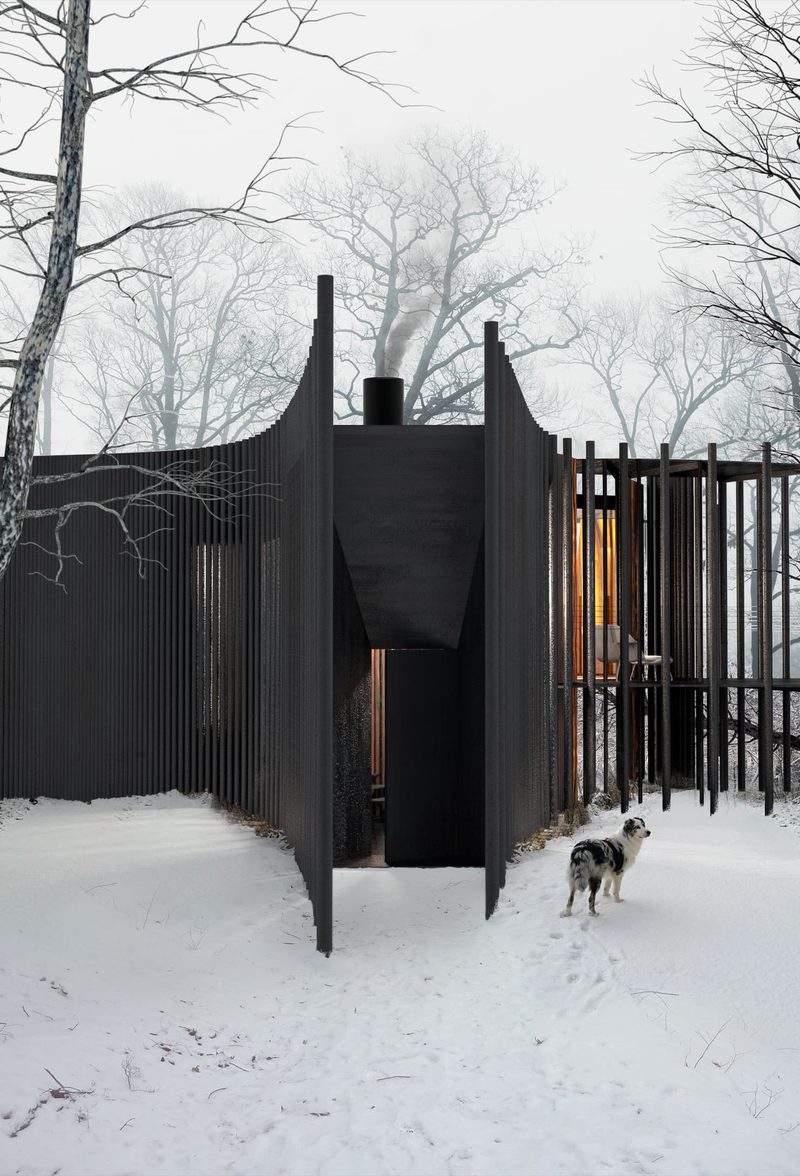 Indoor and outdoor living spaces are suspended in between constellation of vertical wooden poles giving the feeling of living in-between trees.

The boundary of the cabin is ambivalent as the poles solidify and dissolve creating a solid facade, windows and a terrace.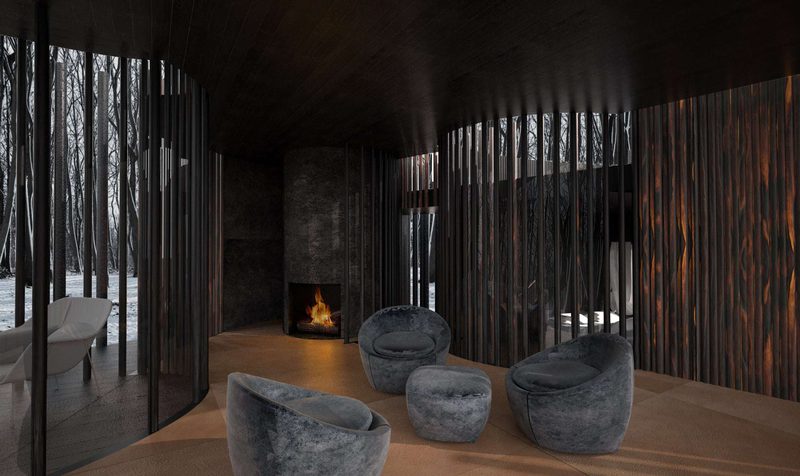 Windows provide panoramic views and are equipped with overhangs to allow light in the winter and prevent sun overheat in the summer.
The central element is a kitchen stove that works as a kachelofen, distributing radiant heat in the floor void into the bedroom and sitting room.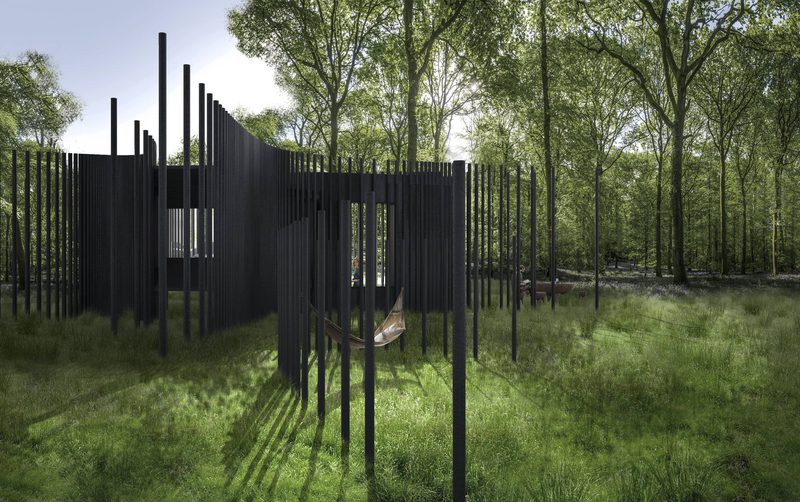 The outdoor areas of the cabin can be constantly rearranged depending on the seasons or the Client's liking. The wooden posts provide support for shading structures, seating, hammocks or lighting.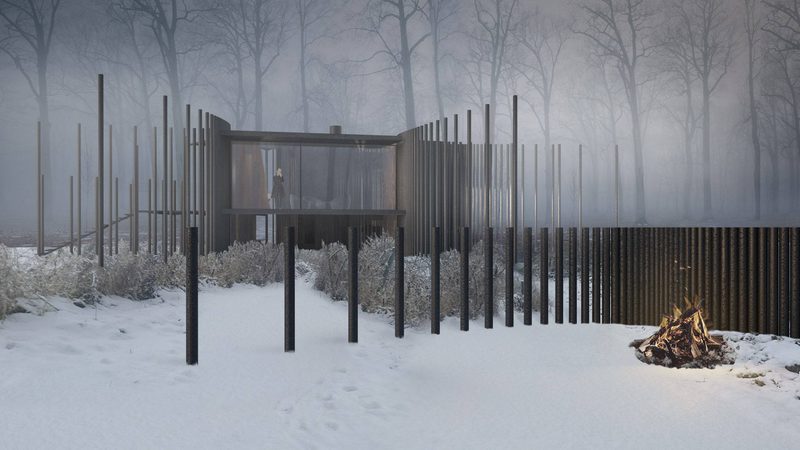 The cabin provides both a connection to the outdoors through amorphous arrangement of wooden poles and a feeling of security and calmness.

The posts are made of charred timber, a chemical free technique to preserve wood using fire and oil.
Design

Bilska de Beaupuy

Location

Ardèche, France

Client

Private

Project year

2017

Project status

Concept Design

Visuals

Bilska de Beaupuy