This bathroom is a stage for creating patterns using light that penetrates moving water.

The continuous white walls and ceiling become a canvas and the water sources, a painting palette.

The interior colours and patterns are created through reflections and mixing different luminous colour projections.
Water Lab Bathroom has been designed as a visual and interactive laboratory to explore and experiment with water: running, splashing or dripping.

Water Lab Bathroom recycles and reuses maximum number of elements from the existing bathroom that would normally be disposed of.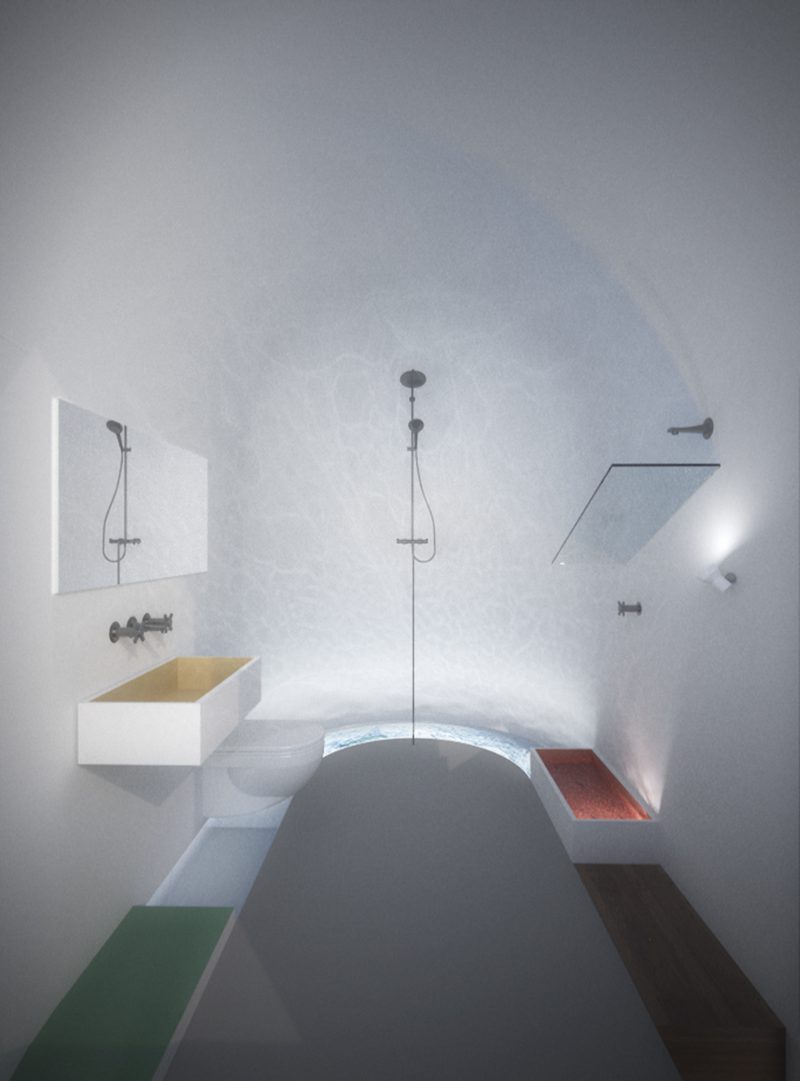 Design

Bilska de Beaupuy

Location

London, UK

Client

Private

Project status

Concept Design

Visuals

Bilska de Beaupuy
The new Clubhouse building has been designed for St Pancras Cruising Club - a members' club based at St Pancras Yacht Basin in central London, located beside the Regent's Canal and close to St Pancras Station.
Bilska de Beaupuy has been commissioned to develop detailed design of the building, to design the landscape and assist in coordination of the works during the construction process.
Construction details developed for the project contain sustainable, natural and energy efficient building materials that create vapour permeable wall construction and greatly improve indoor air quality.

Vapour permeable design allows moisture in a form of vapour to pass through and prevents condensation, mould and rotting of the timber structure.
Main features of the landscape design are retaining walls and planters made from rusted steel.

The support elements of the retaining walls are purposefully exposed creating a tectonic design.
Detailed Design

Bilska de Beaupuy

Landscape Design

Bilska de Beaupuy

Location

London, UK

Client

St Pancras Cruising Club

Project year

2018 - 2019

Project status

Under construction

St Pancras Basin Photography

David Rix

Concept Design

Manolo & White Architects