Nature and Wellbeing Centre
The Serpent is a design proposal for the Sevenoaks Nature & Wellbeing Centre located in the heart of a wildlife reserve.
Inspiration for the shape and plan of the building comes from a serpent, an ancient symbol associated with wholeness, healing and continual renewal of life.
The visitors centre unconventional form plays on visitors imagination, is thought provoking and mysterious.

Both indoor and outdoor spaces embrace the language of curves, creating the feeling of anticipation of what might be 'around the corner' and triggering visitors' drive to explore.
The Serpent is a space where people can connect with themselves and with nature.

The building typology creates sensorial and experiential connections. These stimulate mind, brain and body in a way that enable to rest, recover and regenerate.
Green courtyards, moving shadows, reflective textured walls, trickling water fountains, nurturing earthen floors, contemplative spaces of solitude, energising lake views — all connect to experiences of physiological and mental wellbeing.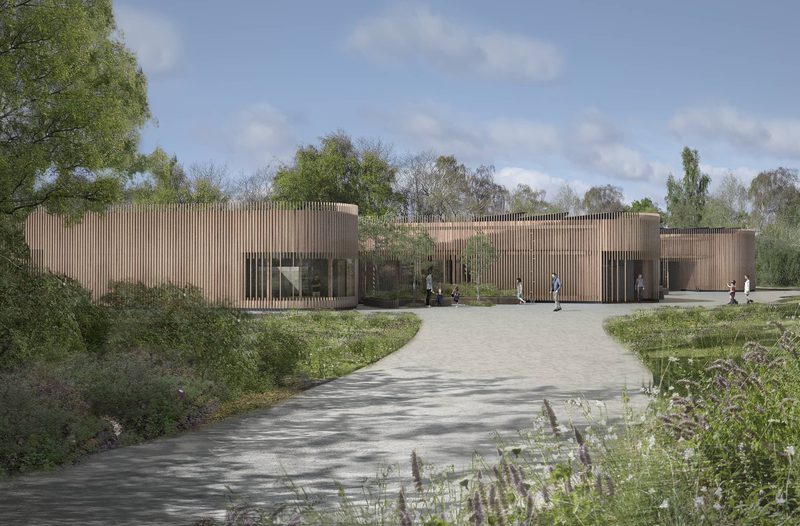 Design

Bilska de Beaupuy

Location

Sevenoaks, UK

Client

Kent Wildlife Trust

Project year

2018

Project status

Competition finalist
Architects

Bilska de Beaupuy

Sustainability Consultants and MEP

Atelier Ten

Structural Engineer

Nous Engineering

Cost Consultants

Doig + Smith

Ecologist

Eight Associates

Visualisations

Bilska de Beaupuy
Folding house is a concept exploring movable building envelope that allows to convert outdoor into indoor spaces.

Continuous spiral circulation spine connects internal spaces and rises from the ground floor spa up to the top floor master bedroom.

The building features terraces with panoramic views on to Hollywood and its hills. The outdoor spaces can be transformed into enclosed rooms.
Borders of the house are protected by a baleen-like fence that provides privacy, erosion and fire control.

The fence directs rainwater into underground reservoirs that work in symbiosis with the house's chore, a green tower for interior air cooling, grey-water treatment and bacterial energy production.
Design

Bilska de Beaupuy

Location

Hollywood, USA

Client

Private

Project year

2016

Project status

Competition

Visuals

Bilska de Beaupuy